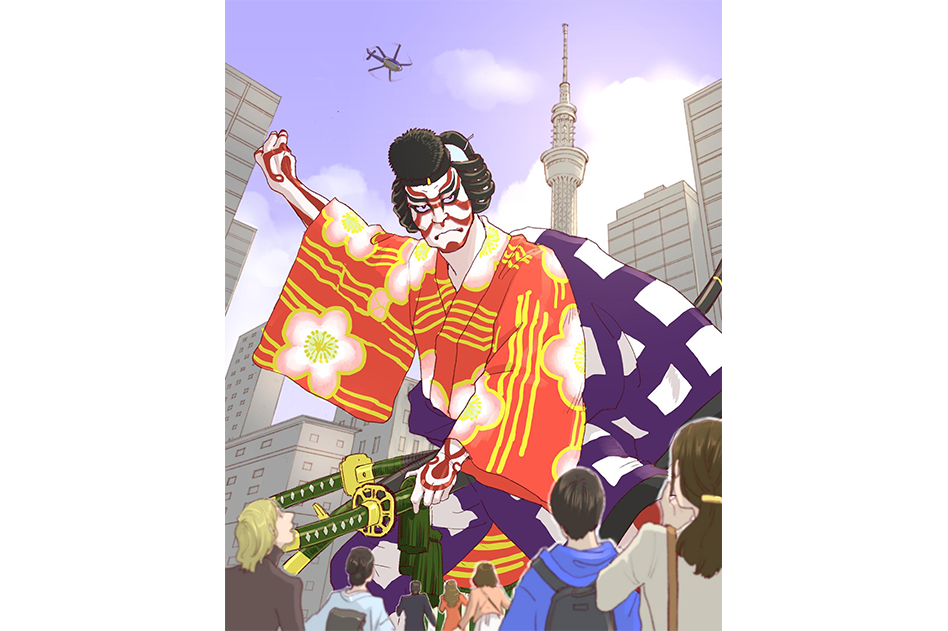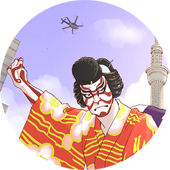 Thoughts on entertainment KabukiNo. 5
The vacuum hole known as mie

The actor has let out his shout and stands with strength visible throughout his entire body. The sound of the clattering tsuke intensifies before culminating in emphatic claps of battari. The Kabuki actor sustains a pose like that of a guardian of the Buddha. "[Actor house name]-ya!" come the well-timed ōmukō calls.
When people hear Kabuki mentioned, my guess is that most of them think of the mie, the sustained pose for effect. It is true that, for people watching Kabuki for the first time, a mie is obviously apparent and therefore is a friendly indicator of a featured moment.
It's similar to a close-up in a movie, a way of saying, "Look! Attention over here!"
Although it is a featured moment, a mie isn't necessarily a peak in the storyline. Mie is not so much a device for crafting a theater performance but a device for presenting the actor to impress—as kakkoii.
Actor Ken Watanabe is in the most recent of the Hollywood Godzilla movies, Godzilla: King of the Monsters. In an interview, he said that the entrance scene for each monster is like a Kabuki actor striking his mie, breathtaking enough to induce shivers.
Yes, he says, the story and whatever are fine, but this is a movie in which the monsters are just too awesome—kakkoii.
The movie does have humanity and drama, yes. But foremost, this is a movie in which Godzilla, King Ghidorah, Rodan, and Mothra roar and rampage, even more than its predecessors in the Godzilla franchise. I doubt there can be a more suitable way to express this than what Ken Watanabe has said.
As an actor familiar with the film industries of both Japan and Hollywood, perhaps he felt Director Michael Dougherty's love for Godzilla in his choosing a Japanese way of presentation.
From the beginning, each hero in tokusatsu special effect work has had his unique pose. First, a defining pose at his entrance. Then, he may strike a pose during battle, just before his special finishing move.
Heroes in American comics don't do this. Freezing in front of the enemy is unthinkable. It would be, like, "What do you think you're doing, doing that now!?" It's said that the originators of tokusatsu decided that heroes need poses, based on the Kabuki mie. The reason is simple: they felt heroes should be impressive—kakkoii—just like Kabuki actors.
It's easy to imagine that the numerous mie unique to character types, such as fudo no mie(不動の見得), ishinage no mie(石投げの見得), seisatsu no mie(制札の見得), and hashiramaki no mie(柱巻きの見得), were useful in creating the poses.
Just as the tokusatsu hero strikes a pose and the opponent also pauses in his attack, the mie in Kabuki creates a different space within the drama. The music that had been building also abruptly stops with the actor's mie, as do all other motion on stage. The silence of that moment is like a vacuum hole, ready to suck us in. Perhaps, if we let ourselves be sucked in, we would notice that the hole is connected to what is captivating about Kabuki.
Text: Kowloon Joe
Born in Tokyo, 1976. Writer and editor. Writes mostly about pop culture and traditional performing art. Has edited countless publications. Pens the series "Wakaki geinoshatachi" in the magazine Bungakukai (published by Bungeishinju). Published works include Memorīsutikku: Poppukaruchā to shakai wo tsunagu yarikata (Memory stick: How to connect pop culture and society) from DU Books.
Illustration: Kan Takahama
Born in Amakusa, Kumamoto Prefecture. Graduated from the University of Tsukuba School of Art and Design. Published works include Mariko Parade co-authored with Frédéric Boilet (Ohta Publishing Company), Yellowbacks (Yugaku Shorin), Awabi (Yugaku Shorin), Nagi-Watari and Other Stories (Kawade Shobo Shinsha), 2 Espressos (Ohta Publishing Company), Yotsuya-ku Hanazonocho (Takeshobo), Sad Girl (Leed Publishing), and Cho-no-Michiyuki (Leed Publishing). Received a best of short stories award for Yellowbacks from The Comics Journal in 2004. Received an Excellence Award in the Manga Division for Nyx's Lantern at the 21st Japan Media Arts Festival in 2018. Highly regarded overseas.